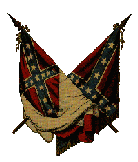 If yew have AIM then this is fer yew! Check out this screamin' rebel design you'll just love more than a pan of warm biskets.
Confederate Flags - Rebel Flags - Confederate Battle Flags - Confederate Flag License Plate Tags- Confederate Flag Mouse Pads - Confederate Flag Merchandise and much more
Hrmm...Now theres something different.



It's not just a good idea....
It's THE LAW!
LAW: It is illegal for a bingo game to last longer than five hours, unless the bingo is being played at a fair.
COUNTRY: USA / STATE: North Carolina
CITATION: §14-309.8. Limit on sessions.
ACTUAL: The number of sessions of bingo conducted or sponsored by an exempt organization shall be limited to two sessions per week and such sessions must not exceed a period of five hours each per session. No two sessions of bingo shall be held within a 48-hour period of time. No more than two sessions of bingo shall be operated or conducted in any one building, hall or structure during any one calendar week and if two sessions are held, they must be held by the same exempt organization. This section shall not apply to bingo games conducted at a fair or other exhibition conducted pursuant to Article 45 of Chapter 106 of the General Statutes.
You Are 85% Redneck
You're just about as welcome up in town as a hair in a biscuit. Ain't no hidin' your redneck roots!
Your Hillbilly Name Is...
Big Bessie Dallas
"Idleness is not doing nothing. Idleness is being free to do anything."
-
Floyd Dell



For another saying refresh this page
Kristen sayz-I am a diva. Plain and simple. But see, I went and got married to this redneck and it's been all downhill from there....
Read More